Blaze Emergency Equipment Company
Our company is based on integrity and is dedicated to helping you protect lives and property by providing state of the art, high quality, fire trucks, ambulances, specialty vehicles and life safety equipment combined with expert 24-hour emergency repair service. We are "Firefighters serving Firefighters" and "EMT's serving EMT's".  Most of the Blaze staff is made up of current and past firefighters and EMT's both career and volunteer. We know from personal experience how dependent you are of your equipment and how your lives depend on the proper maintenance, repair, and sale of that equipment to ensure you go home after each call. The Blaze staff has a combined total of over 175 years of experience in the emergency service industry. Blaze employees know how to get the job done right by providing the highest level of service and attention to detail that you should expect for all of your equipment needs.
Our goal is to provide superior firefighting apparatus, specialty vehicles, and equipment along with maintenance programs that keeps your companies trucks up and running at their best. Our technicians are ASE & EVT certified to perform all your warranty and service work to the utmost satisfaction.  NFPA  recommends at least annual service and testing of every piece of firefighting apparatus. Required testing includes fire pumps, aerial devices, hoses, ground ladders, low voltage systems, line voltage systems and vehicle weight.
Founder of Blaze Emergency Equipment Company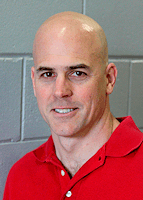 Joseph Howell Jr. is the founder of Blaze Emergency Equipment who created a company that is driven by emergency service workers to serve emergency service workers. Blaze employees hold true to their integrity by priding themselves on quality which is what Blaze Emergency Equipment is all about.  Joe is a 38-year veteran with the Manchester Volunteer Fire Company #1.
Joe has served in various positions over the years, twelve (12) of which have been as the Chief Officer of the Company. Joe also has been employed by the Millstone Township Fire District #1 for the last 20 years as per diem firefighter. Joe is a certified Fire Inspector & Fire Official as well as an arson investigator. Joe always looks to take things to the next level by testing his knowledge and ability's and has done so by competing is such events as the Firefighter Challenge and vehicle extrication (TERC) competitions in the past. Joe has passed along his knowledge and experience for the last 35 years as an instructor at the Ocean County Fire Academy and is a current per diem Assistant Ocean County Fire Marshal.  Joe is also an instructor for Superior Fire & Emergency Response Training LLC in such courses as Vehicle Extrication and Basic Fire Police. Joe is just as active today in the fire service as he was when he first started almost four decades ago. With numerous years of experience in the fire service industry, you can't go wrong with Blaze Emergency Equipment Company. On the frontlines and the administrative side Joe knows what it takes to have a fleet and equipment that is running at its best in order for you to be the best.
Blaze Emergency Equipment Company is PROUD to represent ALEXIS, SUTPHEN and LIFE LINE EMERGENCY VEHICLES for New Jersey.